11/13/2018
Business Alley – the exhibition of opportunities
At the Business Alley site companies, accelerators and entire countries present their products and services to GoTech Arena participants.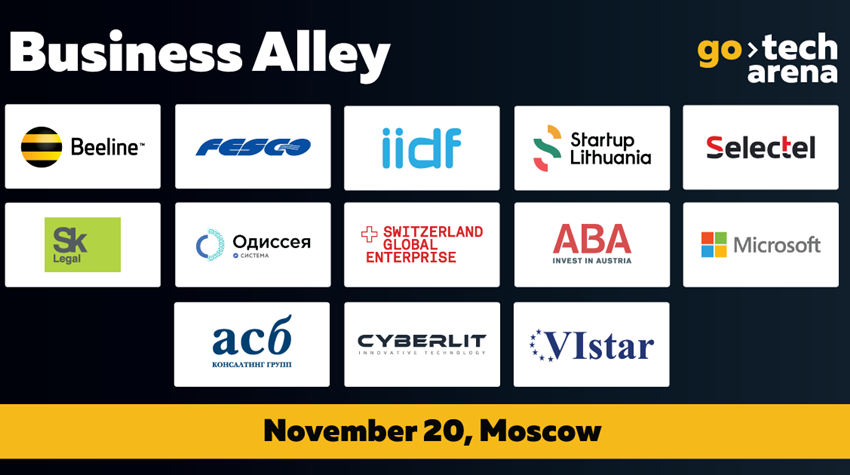 The exhibition of opportunities will work all day long. Who can you meet at Business Alley?
Beeline is a part of the VEON Ltd group of companies – an operator in the top 8 of the world's largest telecom operators with a desire to be the first in personal Internet services for more than 235 million customers. We invite to cooperation startups who are developing B2B solutions in the field of retail, finance, advertising and HR, as well as B2C projects, which make it easier and faster to solve everyday household tasks.
If you are developing a technological idea in the field of transportation or want to start developing in the field of logistics, we invite you to the stand of the FESCO Transportation Group. Do not miss the opportunity to talk with the professionals of one of the largest private transportation and logistics companies in Russia!
IIDF Accelerator is the best program in Russia for business acceleration development on the Internet. We are waiting for IT entrepreneurs at our booth: you can get acquainted with the representatives of IIDF, learn about the opportunities for growth of your IT startup and get feedback on your business from investment analysts.
Startup Lithuania presents Lithuania as one of the most promising countries for the development of your business project in Europe. We know everything about the latest trends, infrastructure capabilities and ecosystem functioning. We advise, train, represent your interests and help in creating a startup. Do not miss the chance and come to talk to us at our booth!
Selectel is a reliable provider of IT infrastructure. The company provides servers of any configuration, leases space for equipment and offers cloud services based on 6 of its own data centers in Moscow, St. Petersburg and the Leningrad region. Over the 10-year history, the company has earned the trust of more than 15 thousand customers.
Skolkovo Legal (CIS Skolkovo) is a 100% subsidiary of the Skolkovo Foundation which provides startups, foundations, business angels, corporations and development institutions with a full range of legal support services, including patent and legal expertise in Russia and in world markets. More than 40 lawyers and patent attorneys at Skolkovo Legal work daily on complex international projects to enter key sales markets, ensuring legal protection of intellectual property and investments under the Russian and foreign law.
ASB Consulting Group has a focus on working with technology companies and investors with offices in Moscow and Cyprus, 50+ lawyers, accountants and auditors to help your business. Want to learn how to structure your business in Russia or abroad? Visit the stand of ASB Consulting Group. We accompany business from idea to IPO.
Participate in a large-scale technological contest Odyssey from the Sistema Charitable Foundation with a prize fund of 75 million rubles. Create an effective technology to search for missing people in the natural environment (forest) without a source of communication and you will get access to leading experts, mass recognition and product development.
If you are interested in entering the international market then how about Switzerland? It is a country of innovation and advanced technology, combining a wealth of opportunities especially for high-tech companies in the field of ICT. In Switzerland, you can quickly and easily open a business, enter the European market, collaborate with leading companies, create a strong brand, optimize business processes and taxation. You can learn more about this by talking with representatives of Swiss Business Hub Russia.
ABA – invest in Austria is dedicated to supporting your business in Austria. Austria is one of the most popular places for the development of a business project, thanks to a differentiated financing system, support from investors and incubators, a low tax burden and a developed start-up scene. You can learn about this and many other things by visiting the ABA booth.
Microsoft is waiting for you at GoTech! For prospective startups, we will offer a partnership in which we will be able to organize joint sales and help scale up to new markets using cloud technologies. For large companies, we will select suitable innovative solutions for various business problems.
Cyberlit VR / AR Open World is an open platform for creating and managing virtual worlds without special programming skills. If you are not indifferent to technologies of virtual and augmented reality, if you are developing in this field or are considering the use of technologies in your company, then you must come to our booth and in 5 minutes you will create your first virtual world.
VISTAR helps projects in the early stages of development. Our investments include peer review, outstanding design, professional programming and effective promotion. We will carry out the most complex projects using the latest technologies that meet modern quality standards.
Baseley & Polyak - we specialize in international law and multi-jurisdictional legal project management. We have a wide and vastly developed network of national legal and tax counsels allowing us doing work in our 3 areas of specialization: international tax planning; international arbitration & recognition of monetary judgments; international investment law.
MyGenetics is a direct-to-consumer service for the selection of personal nutrition, physical activity, cosmetics and anti-age procedures based on DNA analysis. It helps people to lose weight efficiently, achieve better sports results and improve the quality of life. 
Do you want to take part in the exhibition with a stand? Book Business Alley category ticket.