7/16/2019
Rostelecom is looking for startups at the GoTech 2019 contest
Rostelecom has set a special nomination for the GoTech contest. Startups, which have the best solutions in Rostelecom strategic areas, will be able to launch a pilot project with the largest digital services provider in Russia.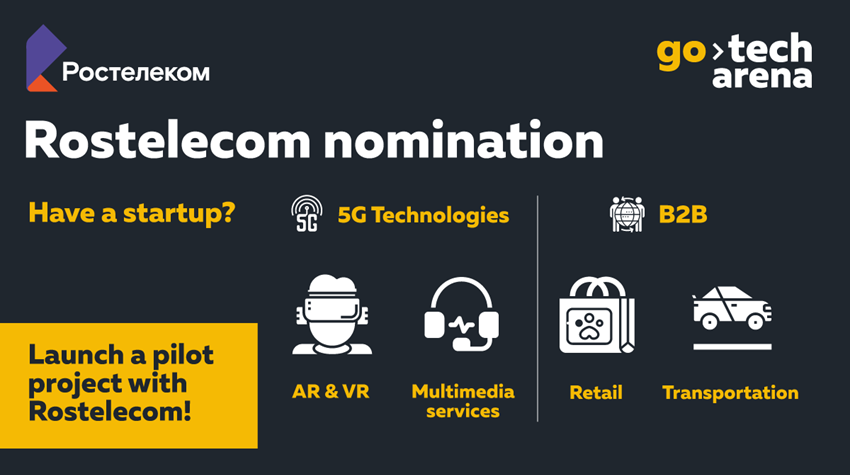 To participate in the contest, companies must have a finished product, efficient team and the intent to reach $5 million revenue in 3-5 years. The developed solutions should be complementary to Rostelecom's business strategy and development directions.
 Rostelecom expects to find and launch pilots with the best 5G solutions with AR and VR applications, multimedia services, B2B solutions for transportation and retail, including Big Data and Machine Learning, and M2M products and services.
 "Our company has tried to keep up with the cutting-edge technologies and implement innovative solutions in its products and services. For several years GoTech Innovation has been assisting us in finding promising technology startups and many of them were successfully integrated in our business processes. Due to our partnership in 2018 Rostelecom has started negotiations with 25 startups, and we hope that 2019 nomination will be even more successful," says Lubov Simonova, Head of Technology Development project office at Rostelecom.
The winners of the nomination will be able to launch a joint pilot with the corporation. Moreover, they will get a chance to become a service provider, gain access to the infrastructure, technologies and client database of Rostelecom and raise investments. Applications are accepted until October 15 on the website: https://www.gotech.vc/en/contest/nomination/rostelecom/.
The winners of all nominations will be announced during GoTech arena conference in Moscow on October 15. The event will gather 1200 entrepreneurs, investors and representatives of large companies and startups. The ticket sale to the forum is currently open.
#     #     #
GoTech Innovation has been providing services to corporations on the selection of technological projects and working with them since 2009. Key competencies: startups and technology scouting, acceleration and tracking of innovative projects, creation and implementation of corporate programs and events for working with turnkey startups. For the last 10 years our team has been conducting the largest independent competition and technological projects GoTech forum in Russia and Eastern Europe GoTech Arena. There are more than 6500 startups in our pipeline and in our portfolio, there are joint startup programs with partners in Russia, Belarus, Finland, the Baltic States, France, Austria and Latin America.
Rostelecom is Russia's largest provider of digital services and solutions with presence in all market segments, passing through millions of Russian households, governmental and private organizations.
The company is an unrivalled leader in the Russian broadband access market (13 million BB subscribers) and PayTV market (10.2 million family subscribers of which over 5.4 million are viewers of a unique federal scale Interactive TV product. The Company continues development of digital solutions for Smart Home, On-line Education, Telemedicine, and other services.
Rostelecom is an unquestionable leader on the market of telecommunications services provided to the Russian governmental and corporate customers of all levels. Over 1 million of entities are users of Rostelecom BB Internet access and VPN services.
The Group revenue for 3 months of 2019 totaled RUB78.7 billion with OIBDA reaching some RUB26.4 billion (or 33.5% of the revenue), and net income totaling RUB5.6 billion.
Rostelecom is a widely recognized technology leader offering innovative solutions in e-government, cybersecurity, DC and cloud computing services, biometrics, healthcare, education, housing and utilities services.
The company stable financial position is confirmed by the following credit ratings: "BBB-" from Fitch Ratings, "BB+" from Standard&Poor's, as well as "AA(RU)" assigned by Analytical Credit Rating Agency (ACRA).