8/29/2019
«Beeline» is looking for 5G startups
"Beeline", a leading Russian telecommunications operator and digital service provider, together with GoTech launched a contest to find breakthrough projects using 5G technology. Startups will be provided with a platform equipped for testing solutions in the new generation network.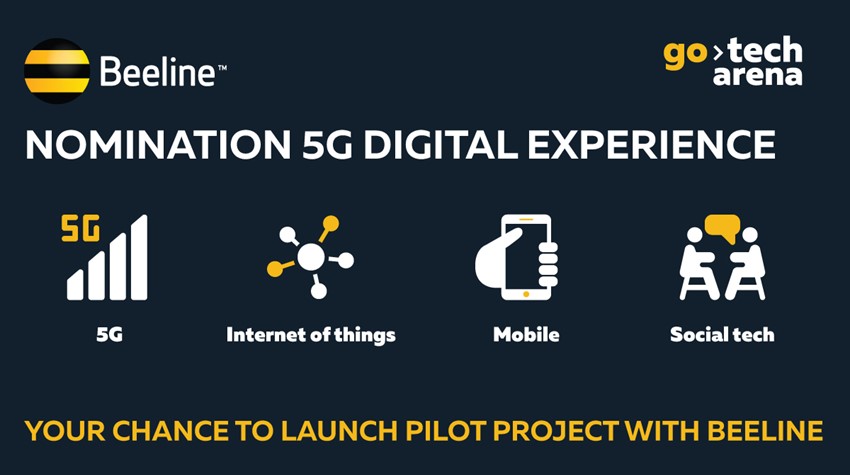 Special nomination 5G Digital Experience created as part of GoTech Contest to search for solutions developing to implement in 5G. The winners will be able to launch a pilot project with Beeline and test the technology in 5G networks. As a result of previous nominations during the GoTech Contest 2017 and 2018 Beeline launched pilots with startups GetShop.TV, Tusion, Cloud Interpreter, FarmMarket, ParkWise and "Braille Glove" project.
Beeline is looking for solutions in areas of retail, marketing, HR and finance. Application are accepted from the startups focused on safe driving, control of Internet-connected cars, telemedicine, smart city and urban environment health care (Urban health), VR/AR/MR technologies, as well as B2C-solultions assisting in the everyday household tasks using mobile applications.
Special attention is paid to social-oriented tech startups aimed at solving the problems of people with disabilities and M-Health startups.
"Today, 5G is one of the most widely discussed technologies. So far scouting for such solutions in Russia and Europe is mostly experimental, but it is highly important for Beeline to anticipate the development of technologies that will determine tomorrow market. Joint technology testing at the 5G Beeline pilot area in SKOLKOVO will let us test hypotheses in practice." – says George Held, Vice President for development of digital and new business.
Applications are accepted until September 20 on the website.
The winners of all nominations will be announced during GoTech Arena conference in Moscow on October 15. The event will gather 1200 entrepreneurs, investors, representatives of large companies and startups. The ticket sale to the forum is open.
#     #     #
GoTech Innovation has been providing services to corporations on the selection of technological projects and working with them since 2009. Key competencies: startups and technology scouting, acceleration and tracking of innovative projects, creation and implementation of corporate programs and events for working with turnkey startups. For the last 10 years our team has been conducting the largest independent competition and technological projects GoTech forum in Russia and Eastern Europe GoTech Arena. There are more than 6500 startups in our pipeline and in our portfolio there are joint startup programs with partners in Russia, Belarus, Finland, the Baltic States, France, Austria and Latin America.
PJSC VimpelCom ("Beeline" brand) is a member of VEON Ltd group of companies. VEON Ltd. is a global communications provider, aimed to be the first in personal Internet services for more than 235 million customers, which the company serves at the moment, and for many others in the coming years. Headquarters of VEON Ltd. Located in Amsterdam, Holland. Shares VEON Ltd. quoted on NASDAQ and Euronext Amsterdam.