4/6/2018
Rusnano Sistema SICAR invests in industrial hi-tech businesses in Europe, Russia, CIS and Israel
In March 2018, the GoTech team announced a competition for industrial hi-tech projects called HardTech Round. The competition was initiated by a European fund Rusnano Sistema SICAR, and they are willing to invest up to 10$ million in a winning project. We have gathered main questions that will help the participants of the competition learn more about the fund.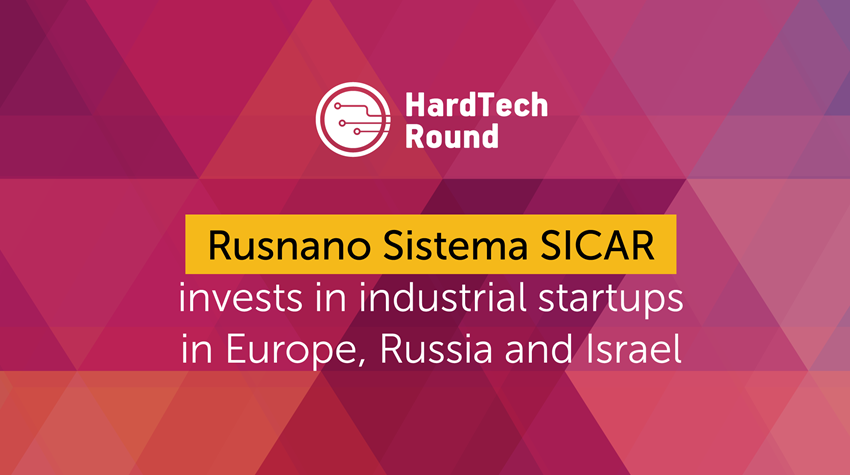 We have Sergey Dergach, CEO of Sistema Consult and head of investment team of Rusnano Sistema SICAR, answering the questions:
What is the fund's geography?

The fund is registered in Europe and is focused on projects from Europe, Russia, Israel and the CIS. These are the regions where we can be specifically helpful for the projects and where we possess the necessary expertise in the target market.
Which projects are you interested in, and at which stages?

We are quite flexible in terms of multiple aspects: business plan, team, area of expertise and sales. A typical company of our interest is an A-round company focused on international expansion.
Is there an example of the perfect startup in the market that you would want to invest in?

We are actively searching for projects. And it's not about being perfect, but about the ability of both sides to carefully evaluate the opportunities and about the professional approach during the period of investments raising and further development of the project.
Tell us about your portfolio startups and deals

We have 3 projects that we have invested in, but one of them is currently in a stealth mode and we cannot publicly talk about it. I can only say that we are talking about investment in a very promising technology related to connected cars. It's one of the areas that we are focused on when looking for new projects, along with other promising areas like cybersecurity and energy efficiency. This is explained by the fact that such things as secure digital IDs or Pure Energy will be more and more appreciated in the future and will have a more critical role in our lives.

Apis Cor is a Russian developer and manufacturer of mobile construction 3D printers that are able to print out whole buildings of up to three floors completely on site. The company has already "printed" a house in the Moscow region and has reached the active pilot stage in the Middle East and Indonesia.

The oil servicing company GEOSPLIT is an integrator of technological solutions for oil and gas industries that are based on its own R&D. The project team developed an innovative method for diagnosing and monitoring the profiles of horizontal wells, which is based on the use of quantum markers-reporters. The company is actively growing in the Russian market and is expanding its contract portfolio with large clients like Lukoil, Gazprom, Tatneft. It is also planning to reach the market of the Middle East and China and is currently discussing the strategic partnership with the local ecosystem's players.
What are some other opportunities that the fund can offer to its portfolio projects apart from money?

We have massive opportunities for PR and a large network of contacts, and we also get a lot of attention from the member companies of Sistema conglomerate for partnering with our portfolio projects. For instance, MTS, the largest telecom operator in Russia, will be ready to launch a joint pilot project if they see a promising digital solution in the area of Smart Cities.
Let's imagine that I am a startup in the area of industrial technologies. I have a prototype and I need investments for scaling up and launching pilot projects on sites. What should I do and where should I go to first? What could you recommend me?

If a company is at the seed stage, it would be a smart move to choose an accelerator and team members, as well as to test the product hypothesis. At the later stages, it should always be the market hypothesis, as in the start of the sales, and the ability to scale up.
Now let's imagine that I am a European project that needs investments and I want to launch my pilot projects in Europe with European companies. How can you help me if you invest in me?

From the very beginning, our fund has had an international aim. We do not distinguish the projects by the country of origin or the target market, but we do evaluate the possibilities of scaling the business outside just one region and we are ready to invest not only money in it. For example we have presence in Europe: one of the members of Sistema Group is a timber industry holding Segezha Group, one of the leading manufacturers of paper wraps in the world, and they largely use new technologies on their Russian and foreign sites.
How do you evaluate the current market of early stage projects in the area of industrial technologies? What is the difference between Europe, Russia and Israel in the market?

The characteristics and growth opportunities in Russia and Europe are multi-focused. In Russia, it is still just the first tens of millions of dollars a year, while in Europe and Israel there is a noticeable and well-established wave of "hybrid projects" that are offering the digitalization and higher-quality services in already existing sectors. Computer vision, machine learning and robotization are creating new points of growth in energy, machine building, construction, vehicle sector, etc. Today projects are focused on global markets like China, Southeastern Asia and the US from day one.
The hard tech industry looks at startups with apprehension. It is especially difficult to launch a pilot project in this sphere. What are some confidence building tools that projects can use?

The hard tech industry apparently will always be more conservative to move; it must first of all ensure quality, including the "last mile" of the production chain. I think that the main path of development of the relationship between the masters and pioneers of this industry is based on project partnerships and application of different technological solutions for different complex tasks for large clients.
What is the perfect outcome of the project for you?

We are aiming for a so-called "home run", i.e. selling the project to a strategic buyer at 10x multiple to the base evaluation or leading the project to an IPO. This is also one of the areas where Sistema has a lot of knowledge and expertise, and we are willing to share it with our portfolio projects. Sistema itself is a large public company and has brought several of its assets to the stock exchange.

We are inviting industrial hi-tech projects to participate in HardTech Round. It is an opportunity to be included in the fund's pipeline and to receive investment from us, as well as to receive gifts from our partners.