6/14/2019
Statistics of Startup Connect Contest applicants
On June 10 we closed the applications for the Startup Connect contest that lasted more than two months. While startups-participants are waiting for the finalist's announcement, we have prepared for you the statistics of all applications from the teams.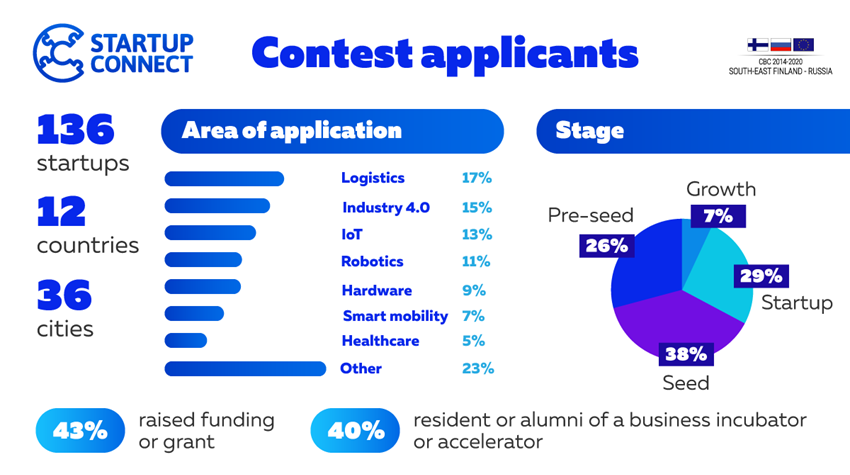 In total, 136 startups applied for the contest. Applications came from 12 countries (Russia, Finland, Estonia, Belarus, Germany, USA, Great Britain, Serbia, Poland, Pakistan, Kyrgyzstan, Democratic Republic of Congo) and 36 cities. 
The largest number of applications came from teams working in the fields of Logistics and Industry 4.0 (15% and 17% respectively), followed by the number of applications are companies from the industries IoT (13%), Robotics (11%), Hardware (9%) and Smart mobility (7%).
40% of the participants indicated that they are residents or alumni of business incubators, accelerators, and other special support programs, and 43% previously raised investments and grants.
The development stages of the company were as follows: 28% of the participants are now in the pre-seed stage, 38% are at the seed stage and have already developed MVP. And 36% of startups-participants are at the stage of early-growth and scaling.
Right now, the Jury began the selection process and by the end of June wу will announce 10 startups, who will go to the finals at *Ship startup festival in Kotka (Finland) on August 1 and 2 and will compete for the main prize.
Follow website Startup Connect for more information.