8/5/2019
X5 Retail Group: cooperation with startups has to be effective
X5 Retail Group, the largest retailer in Russia, announced its entry into foreign markets to monitor innovations and search for startups for implementation in its own retail-chains (Pyaterochka, Perekrestok, Karusel stores). Now X5 technology scouting takes place in Estonia, Latvia and Lithuania. The selection was organized jointly with GoTech Innovation and will last until September 17. Best startups will get a chance to implement a pilot project in the X5 Lab Innovation laboratory. The focus of the X5 is on shelving control projects, flexible pricing systems, robotics, automation of quality control and freshness of products, tracking of goods. X5, in turn, is ready to make the necessary investments and provide infrastructural opportunities for cooperation.
Denis Levchenko, Head of Innovations at X5 Retail Group, spoke about how cooperation between X5 and startups will be organized, who have the greatest chances to implement their projects and what criteria will become key when choosing solutions.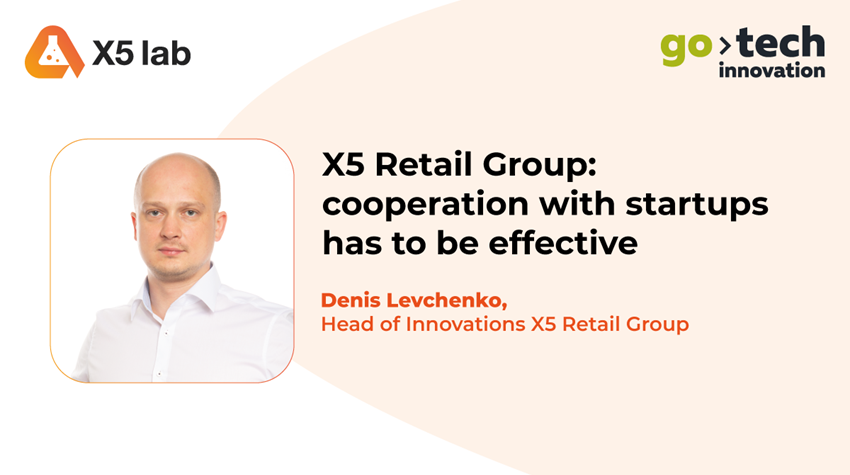 - What areas do you look at when looking for startups interesting for X5 Retail Group?
- We consider technological solutions for 4 key areas of retail - consumer experience, operations in stores, supply chain, back office. Our focus on selection is that development should be measurable and commercially reasonable, and also ready for potential implementation within 18 months. Technology should also be beneficial and cost-effective - reducing costs, streamlining processes, incremental sales, customer satisfaction and loyalty.
Among the main areas of interest to us are the creation of a new customer experience (solutions to increase customer loyalty, frequency of visits, basket), video analytics, robotics, self-service, automation and increased efficiency of operations in offline stores (control of availability of goods on shelves, replenishment of shelves , control of the availability and correctness of price tags, acceptance of goods in the storehouse's warehouse, acceleration of service at the box office), anti-fraud solutions for offline stores and self-service services, optimization of operating costs (electricity, heating, air conditioning, etc.), efficient use of retail space, increasing the efficiency of personnel management, innovative trading equipment, solutions for monitoring and maintaining freshness of products, increasing the efficiency and safety of processes at distribution centers (inventory, order collection, loading / unloading, moving pallets, storage), increasing the efficiency and safety during transportation (Antison solutions, driver assistants for reduced accident and theft of goods from vehicles, collection and analysis of data from vehicle sensors, maintenance and optimization of vehicle operating costs), quality control of goods, freshness control, reduction of losses from spoilage, incl. predictive analytics tools (especially for the categories "fruits", "vegetables", "fresh").
A separate segment is the introduction of solutions that are not connected with it to the territory of offline retail, which creates additional traffic. For example, now we are actively developing a chain of postamates in Pyaterochka stores. We are planning a project for the placement of charging stations for mobile phones. It turns out that a person, going to the store for such a service, also makes purchases of products.
Now our main focus is decisions that will have a pronounced effect on the P&L of the company, i.e., on its costs and revenues. And here it is important to pay attention to those areas where the effect of leverage will be maximum. So we now have 15,500 stores across the country, and if we find a solution that allows us, say, to reduce transaction costs by 1% or increase throughput by 1%, then in the end it will be a big financial effect for the company for the very scale of the business. The company employs more than 270 thousand people, this is another lever to improve efficiency. If there is a solution to optimize and increase efficiency in HR - for us this can have a strong positive impact. The same applies to logistics - the company has its own logistics infrastructure, consisting of 42 retail centers and about 4000 of its own vehicles. Optimization of logistics costs will lead to a significant economic effect for the company. Well and most importantly, our customers. The company now has 70 million unique customers who generate the company's revenue (1.5 trillion rubles last year). If some solution allows us to increase sales by at least 1%, then the scale effect will be maximal here.
- You have gained extensive experience in working with Russian startups. How do you choose a solution that comes to the implementation?
- Our main expectation from new solutions is optimization of the current business, maximum increase in the efficiency of business processes, reduction of costs for their implementation. In our case, this is, in a broad sense, the automation of as many of the processes as possible - in stores, in warehouses, in the back office. As a result, we reduce costs, become more competitive in terms of price for the buyer and direct the released funds to development.
In general, while we are more focused on offline than on online solutions. The main task now is to optimize the existing business, and startups, solving our tasks in this area, can make money fast enough.
The process of innovation management in X5 is built on the principle of a pipeline - at the first stage, we select startups whose solutions can potentially be of interest to our business, communicate with them, evaluate what technology and competencies are "under the hood" of the proposed solution. At the moment, our pipeline has about 800 projects. About 400 of them passed the stage of business modeling, where the following conditions must be met: the solution can be of interest to us and it can really be integrated into the business process, the technology presented is unique, and there is an adequate team with proven work experience or projects in other networks.
Just over 100 projects reached the piloting stage. If the business hypotheses are confirmed and we see that the technology has affected the business process with some positive indicator, then it is already possible to plan the project quite roll out and with less risk. Now we have 14 implemented projects. I think that in the near future the conversion for implementation will be increased.
- What conditions do you offer startups for cooperation?
- First of all, cooperation with X5 will give startups the opportunity to implement their projects in more than 15,000 stores and 41 distribution centers in 65 regions of presence in Russia. These are huge infrastructure opportunities and experience of the largest retail company in the country. For our part, we are ready to consider the option of buying a solution or service developed by a startup, but we do not consider takeover or just investment injections as such. Rather, we are talking about cooperation, about new financial prospects. Imagine the volume of cash flow if you have implemented your solution in 15 thousand stores of our networks.
- And in what time frames do you manage to implement projects?
- On average, the piloting phase lasts 2-3 months. This is the phase in which we measure business results. Preparation for it takes some time. The decision on the pilot up to a certain amount of investment is made by one person - the director of strategy. If a project requires more investment for piloting, then a special committee on innovation will be composed of four people.
- Who incurs the costs at the piloting stage?
- It depends. If the company is sufficiently stable and mature, but we are not completely convinced of the effectiveness of their project, then they can offer to take piloting costs on themselves in order to prove that the solution works. Another case is that a startup can't take the costs for itself, but we believe in the prospect of its project and take pilot financing on ourselves.
- And who works with a startup during piloting?
- Our staff members of the Strategy Division. We are looking for, analyzing, selecting startups, going through the stage of business modeling with them, preparing for protection for investments in the pilot. If the result is successful, we transfer the solution to the project office, where it is already being finalized. A technical team collaborates with us, which finalizes the product, tests it, integrates with the company's IT solutions, etc.
- You have already analyzed a huge number of solutions. Can you tell me what was the secret of success for those who stayed with you, and what is the reason for the failure of the projects?
- The main problem of any startup is how to pack your decision into a business product with predicted performance indicators. Very often, even with the selected technologies and products, we are forced to refine them for ourselves, "implant" the solution into the processes, act on the levers through which the economic effect is realized, while helping startups begin to think in business categories and developing them as well. That is why startups that fail to qualify are usually solutions with an unverified business hypothesis: that is, the solution works, but does not affect sales or does not fit into our business processes without any heavy and costly improvements.
For example, a project in the field of video analytics is recognition of the availability of a specific product. The solution responds to the absence of one can of drink or a box of milk. Thus, it carries out notifications of personnel about this with high frequency. Employees get too much information, they do not have time to constantly put on the shelf the missing jar. They constantly get distracted from other tasks. It turns out that the technology works, but the business process doesn't.
Sometimes technology just doesn't work. In the laboratory, yes, but not on a scale. Another case - the solution is already being implemented by one of the functionalities of the existing IT system, or it is planned to expand its functionality in the near future.
The startups whose solutions could potentially be of interest to our business, if we understand that we can test this concept here and now, calculate the potential for its replication and the price / efficiency ratio are being selected. Simply put - we go through a number of criteria worked out over the years, which leads a team of innovative experts from all areas of retail competencies (operations, logistics, marketing, etc.) to a simple answer - will it fly or not.
For example, a solution for video monitoring of queues, where as a result the number of complaints decreased by 15%, and the throughput of the cash node increased by 8%, which affected the company's revenue. The costs of installing hardware, cameras, servers, and paying for a software license were offset by the benefits we received from increasing store revenue. And the project itself turned out to be scalable.
Scalability is generally a very important parameter. Often, a startup makes a good decision in the laboratory, but is not physically able to distribute it to a large volume. And we, as a business, get serious benefits when the solution scales to the entire volume of the group's stores.
- As part of the current selection at X5 Lab, you first decided to pay attention to foreign startups. Why?
- Russian retail has come a long way in its development, but global retail is older and more experienced. The task of scouting is not only in the search for technologies, but also in the possibility of their practical application. We are interested in developing customer experience and saving our customers time. In this aspect, there are many developments in Europe that we have yet to develop, for example, self-service solutions .
There are locations where venture capital is very highly developed. And the solutions that startups offer there are more mature and business-oriented. Often they are already tested or purchased by other retailers. More mature solutions are just of great interest to us. We expect that in the case of foreign startups, this path will be faster and more interesting in terms of economic effects.
An important location for us now are the Easter European countries, the Baltic states and Israel, where the startup environment is highly developed, and there are no serious language, cultural and distance barriers with Russia. By the end of the year, projects are planned in Asia and Europe, including in Singapore, Japan, China, Spain and Germany.
You can apply for the selection at the website.